HHB's Superpower
HHB's superpower is in unifying the forces of Culture, Creative & Communications to drive progress in inclusion, diversity, equity and access (I.D.E.A.).
We help companies meet culture's demand for 100% Authenticity. We eliminate any gaps that exists between your internal culture & external perception. 
Our years of experience working in communications, creative and culture enables HHB to realize the reputational rewards associated with authentic internal and external culture-building efforts. And we proactively identify and mitigate risks to ensure I.D.E.A. efforts have the intended impact of measurable progress.
Our Offering:
The foundation of our approach is built upon our proven full-service culture, creative and communication support. Across these three areas of expertise, we bring an I.D.E.A. lens to the work we do in the following areas:
Culture
The strength of culture to achieve impact.
We help strengthen your culture through:
* IDEA / DEI Strategy
* Audits & Action Planning
* Leadership Readiness
* ESG Strategy & Reporting
* Coaching
* Workshops
* Measurement
Creative
The power of creativity to inspire action.
We help build authentic & inclusive brand campaigns through:
* Marketing Audit
* Inclusive Research
* Insight Development
* Strategy
* Ideation
* Partner Identification
Comms
The influence of communication to drive change.
We help build your reputation through:
* Comms Review
* North Star Narrative
* Reputation & Crisis
* Executive Visibility
* Thought Leadership
* Inclusive Media Relations Strategy
When we set out to work with the world's biggest and best brands and companies, we knew we needed to invest in the best research and methodology to deliver on our promise for authentic cultural change.
HHB's proprietary research, methodologies, products and approaches help our clients make greater progress in inclusion, diversity, equity and access at a faster pace – and with more significant, sustainable impact.
Here are a few ways we drive change, differently and authentically: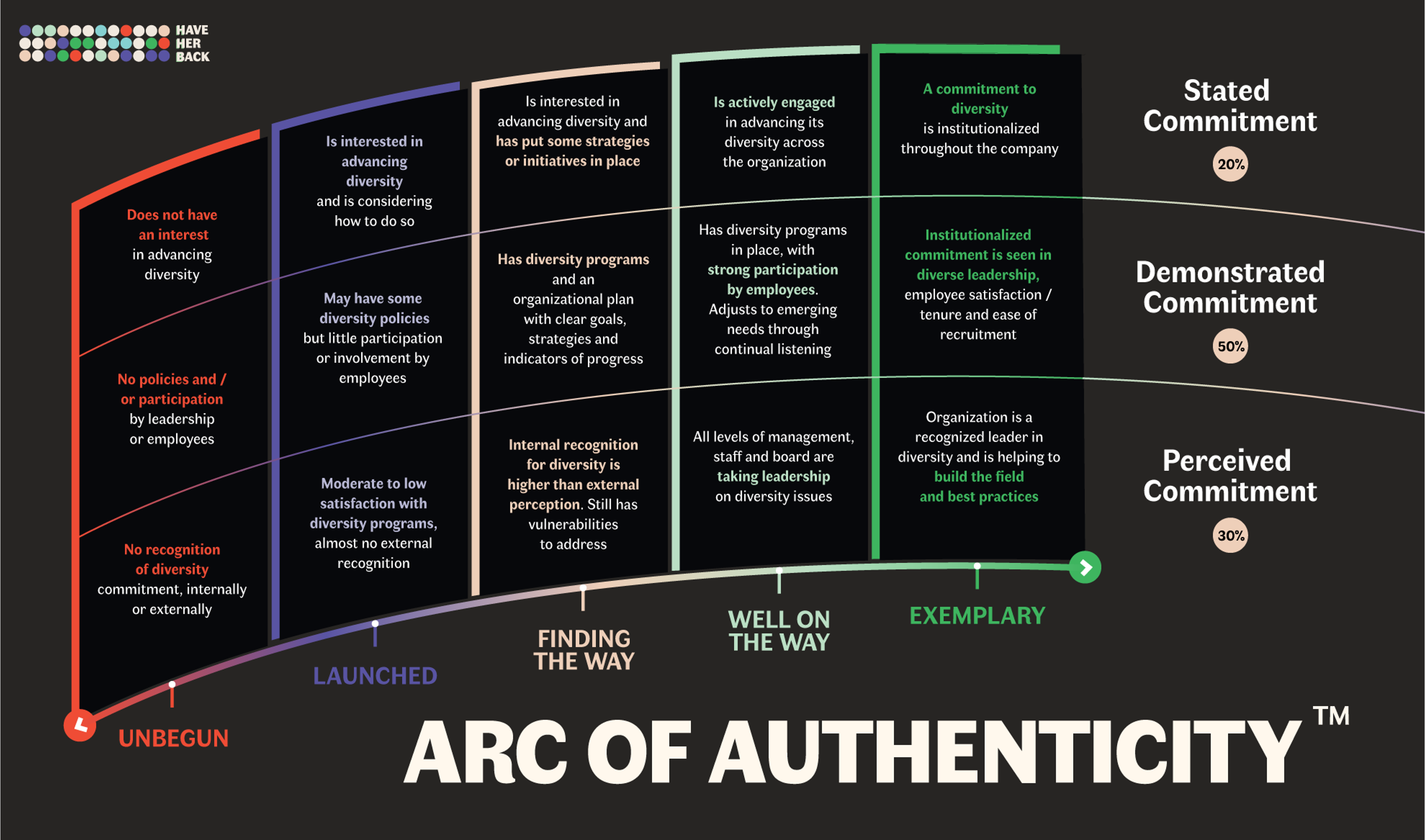 The Arc of Authenticity: HHB's propriety flagship product; a research and methodology tool that measures the commitments an organization makes against the actions it takes to advance inclusion, diversity, equity and access…inside & out

R.U.F.I.T: HHB's strategic framework that analyzes communications, messaging, marketing and advertising implications through an IDEA lens; measuring, scoring and ranking a company's intention-impact gap

The HHB Collective: HHB's online global network representing all historically excluded groups –each with expertise in culture, consumer insight and IDEA. Our 1,000+ - strong thought leaders, marketers, researchers, entrepreneurs, journalists and more support HHB's quantitative & qualitative research; provide deep understanding of consumer perceptions of brands and ethnographic insights into what's driving culture and serve as focus groups for ideas, content content creation, message testing and more